"Nina Sveistrup Clausen represents the exquisite balance of both technique and theatricality. Her beautiful and carefully crafted voice displays every colour in sensuous detail. Her versatile and expressive voice is equally suitable for Mozart, Bellini, Verdi and so many other composers. Her superb ability to interpret repertoire is complex and deeply emotional while maintaining impeccable intonation, clarity of voice and expression. Aside from her immaculate highly-charged coloratura and phrasing, Nina is capable of summoning absolutely world-class pianissimi which cannot be compared." – Ken Querns Langley, Bel Canto Vocal Studio, London 2015.
"This blonde beauty is sitting crouched in her tower, where she reveals the dark sound of her soprano voice – a sound of pain and savagery that matches perfectly with the pounding anger of the music. She sings strongest in the song Comfort, where she tells about being trafficked and being locked up and raped by soldiers. Can this kind of abuse become beautiful poetry, one might ask. But yes. It can. When Nina Sveistrup Clausen sings "Comfort they called it comfort, I gave them comfort" her voice is so painfully gloomy that beauty is sputtering sparks in the darkness." – From review of STØV by Anne Middelboe Christensen, Information March 2016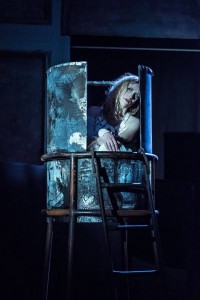 "Expect to be haunted by Nina Sveistrup Clausens hypnoticly beautiful requiem before going to sleep, but expect also to want to hear her sing this fascinating part again."  – From review of STØV CPH culture, March 2016
"… miss Clausen's voice is lifting us out of this world when she kicks in with her opera power, but is even sneaking into our bodies with the resigned song "Comfort", about the abused woman Beauty, and especially in the Mother's deeply beautiful and lachrymatory end-song with the chorus "Today may be a nigtmare, but tomorrow may be darker still".  – From review of STØV by critic Anne Liisberg, Teater 1, March 2016.
Education and Experience
Soprano Nina Clausen was awarded a prize of outstanding artistry (Præmiering) in 2016 for her interpretation of leading role The Moon in STØV (DUST). She  is currently performing the dystopian puppet-opera on tour in 2017 and 2018.
Other works in 2018 include: Queen of the Night in Mozart: The Magic Flute at the Copenhagen Opera Festival August 3rd-5th, and lead singer/performer/musician in EUROPA , a World Premiere by Mute Comp Fhysical Theatre September 5th-26th at Refshaleøen, Copenhagen.
February 2018 Nina got the chance to jump in as cover of the leading female role Sidi in a romantic Danish Opera by Kuhlau: Lulu at the Royal Opera of Copenhagen. In the same house Nina has previously sung Assistant One in World Premiere of MOMO by S. Azarova in November 2017 and one of the 6 Mädchen in Weill: Aufstieg und Fall der Stadt Mahagonny.
In 2015 she had her debut at The National Opera in Århus (DK) as Jano in Jenufa. She has also sung at Teater Solaris (DK)in 2014.
Nina studied singing with the best teachers in Berlin, London and in Odense (DK). In 2012 she got her Post-Graduate Soloist Diploma from the Academy of Music and Dramatic Arts Southern Denmark.
Nina was headhunted during her studies to her debut at the Funen Opera in a new opera called "Elleve Minutter" by Dyrst/Nordestgaard in 2010.
The year after she sang the soprano solo in Orff's Carmina Burana with the regional Symphony Orchestra of Odense, and in 2012 again with Symphony Orchestra of Southern Jutland.
Nina was selected to the finals of Fulham Opera Verdi Prize 2015. She has recieved prizes of honor for promising, young musicians from ERMA fund and Solveig Andersen's Memorial fund. At age 21 she recieved the jury's talent prize in the competition "Unge Spiller Klassisk".
Head of Covent Garden Kasper Bech Holten once heard Nina at a masterclass in 2011 and said afterwards:
"Nina, I'm a little in love with you as a singer. You are a stage-animal".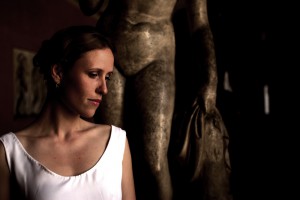 Nina has sung world premieres and other contemporary or modern music together with Esbjerg Ensemble, EkkoZone, Mira Quartettt and with pianist Thomas Clausen among others.
Nina has recorded two full CDs of new Lieder by her father, Thomas Clausen, one was released in September 2017: Karneval & Kikærter.
She has recorded Steve Reich's "Music for 18 Musicians" for CD in 2013 with ensemble EkkoZone.
She is very at ease doing cross-over between classical and other genres like folk, rock and cabaret. A portrait recital for Nina as a crossover and cutting edge artist could be experienced at the Copenhagen Opera Festival on July 31th 2017.
Nina also composes music herself for voice and cello for her duo Sopra il Cielo www.soprailcielo.dk, and for chamber orchestra combined with rockband.